Splitting up Castle Peak
Splitting up Castle Peak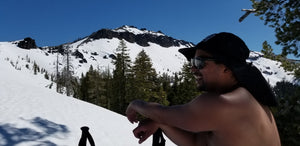 It might be April 24th, and it was 72 degrees, but the snow pack on Donner summit says otherwise. In an effort to hang on the the last little bit of winter now that a majority of the resorts are closed in the Lake Tahoe area Levi, along with Capita, Union and Thirtytwo rep Chris and Milo team riders Scott and Alex set out to do the Castle Peak Trail and do some spring riding. 
As we have gotten older our quest for better snow and better turns has forced us turn to the backcountry. Scott and Alex along with Gnarla (Alex's dog) have a little bit more experience split boarding because of their proximity to the snow as where Chris and I live down in Auburn and have logged a few less hours.
I take pride in have some really great snow equipment that is made to keep you dry and warm in the harshest of winter conditions, but what I lack if snow stuff that works with its 70 degrees.  Sweat management on the 6 mile round trip up to Castle peak was a real issue.
What was fun about this trip is the wide variety of conditions we faced and I really got work on my technique on this trip. All the Splitting I had really done up to this point was on trails and was fairly easy but I got to work on my traversing and skiing this time. Being really comfortable with the equipment really helps and lets you use it for how it was designed makes a big difference in how much work you need to do to get up the hill. 
It's really really really fun to progress in an area.  Over the years I, and Im sure you have gotten comfortable in the resorts and it can kinda loose its spark after so long.  But to be out on the snow doing what we love in conditions and situations that are new and challenging bring a whole new level to it.
I dont need to state that going into the back-country is dangerous and evaluating snow conditions takes a lot of years to develop so always travel with someone who knows more than you. 
Anyways, it was fun.  We've been trying to set up this trip for a year and non of our schedules lined up til now so it was great to get out there and do it. 
How many Resorts can you see from the top of Castle Peak?  Try to find Boreal, Sugarbowl, Donner Skl Ranch, Squaw, Heavnly, Soda Springs and Homewood