New 2021 Early Release Strata and Force Union Binding
New 2021 Early Release Strata and Force Union Binding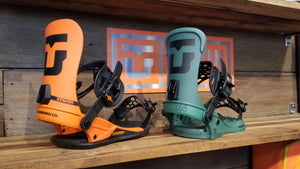 It's that time again, and Milo has the new 2021 product from Union Binding Company before anyone else.  Introducing the 2021 Union Strata Snowboard Binding in Union Orange colorway.  
New Ankle straps are a little stiffer to give your a bit more performance.  I constantly say that the Stratas are close to the perfect snowboard binding and with the addition of the new strap it just might be. 
The early release wouldn't be complete with out the Union Team Highback.
And we also have the 2021 Union Team force, also with a new strap that offer's more durability performance than ever before on the Force. Complete with the Team Solid high-back in Forest Green. 
BBe the first one on the hill with next years bindings!