the GNU Nu Zoid Asym Snowboard!
the GNU Nu Zoid Asym Snowboard!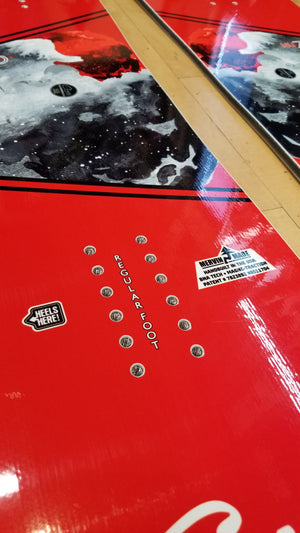 Some say it couldn't be done.  GNU said it could and should, and they did it.  Milo Snow and Skate would like to present the GNU Nu Zoid Asymmetrical Snowboards,  with Regular and Goofy stance shapes. 
That's right, there is one shape for the regular footed folks and one for our fellow goofy riders.  If youre curios what GNU Zoid is all about here is the rundown.
Join us on an epic adventure to the outer reaches of asymmetric shred unreality with the GNU Nu Zoid Asym Snowboard. Strap into a shorter wider volume shifted NuZoid and feel the advanced geometries harmonize with your bodies natural asymmetry taking you to previously unattainable shred performance levels. Manifest exponentially deeper carves, smoother jibs, floatier pow blasts, effortless airs…Balance through Asymmetry! 
• Mid wide width for float and trenched no toe drag carving.
• Big floaty nose for pow and soft snow freedom
• Regular and Goofy trapezoidal asymmetry balances your bodies natural sideways asymmetry
• Perfectly in-tune with modern stance angles
• C2x Camber/Rocker hybrid contour with Magne-Traction floats pow, carves hardpack and slices through ice
• Powerful, poppy G2 Aspen Polonia Tri-Ax Construction 
The GNU Nu Zoid is super limited and is really hard to find so font wait on your change to be apart of snowboard history.